"Pop-Up" Restaurant In Columbus Might Be Prototype For New Fast-Food Business - Or Not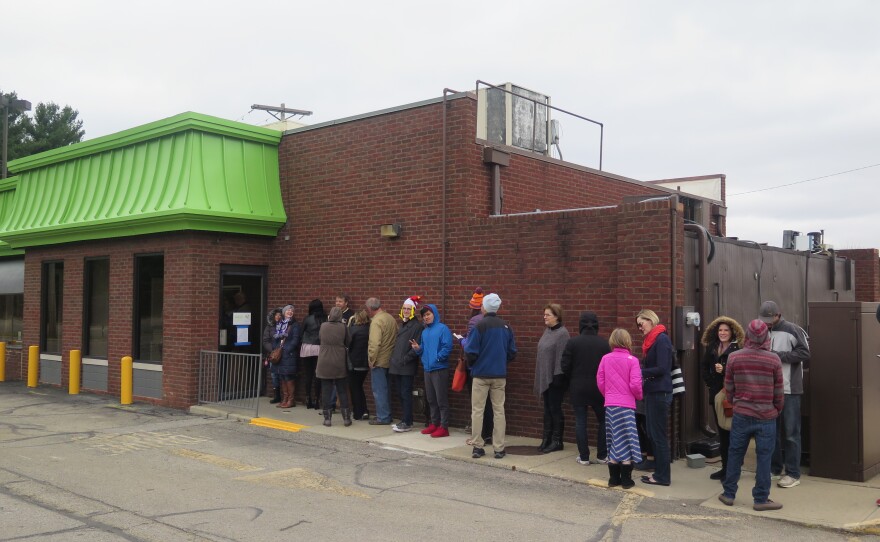 The line outside Holy Chicken in Columbus near Westerville.
Karen Kasler
A crew films customer activity inside Holy Chicken.
Karen Kasler
Alabama farmer Jonathan Buttram and documentary filmmaker and Holy Chicken founder Morgan Spurlock pose for a photo.
Karen Kasler
A documentary filmmaker opened a pop-up chicken restaurant in Columbus this weekend that claims to feature "fast food with integrity". It'll be open for two more days, to get customer feedback. But it's unclear whether it is what it seems.
At Holy Chicken near Westerville, the line is out the door. But on the walls and tables, there are messages about how the chickens, though more humanely raised, isn't really healthy and the paint colors and décor can be manipulative. Morgan Spurlock, the filmmaker who made "Super Size Me", insists it's a real restaurant, but with a real message. "No fast food company is honest. Nobody in the food industry is honest. And what we're doing is we're saying 'no – we're going to honest with you. We're going to be 100% transparent. We're going to be the most authentic company around. And we're going to tell you that.' "
Jonathan Buttram is a farmer from Alabama who says he provided the chickens used at the restaurant, which he says he raised differently than the way he used to raise chickens for other fast-food places. Ohio Public Radio's Karen Kasler talked Spurlock and Buttram.
jonathan_buttram_and_morgan_spurlock_with_kasler_qna.mp3
Ohio Public Radio's Karen Kasler talked with filmmaker Morgan Spurlock and farmer Jonathan Buttram.
Spurlock says he shoots everything, and everyone who comes in is subject to being filmed. But he insists it's not just a documentary or a stunt – it's a business he intends to open permanently soon.