The 'Ghost Hunting Gays of Ohio' find queer community in the search for the supernatural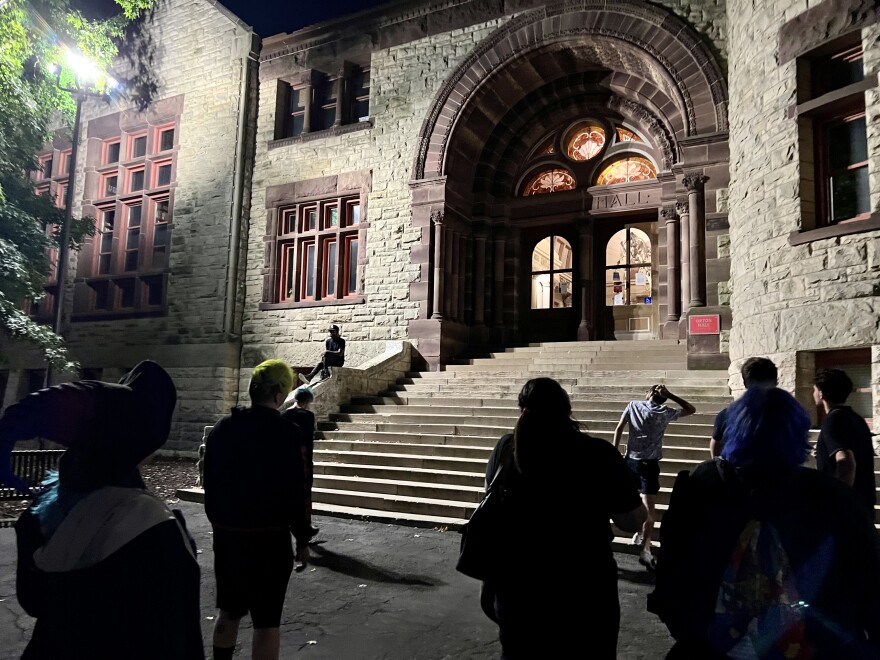 A small group of people huddled around Mirror Lake on Ohio State University's campus on a September evening. Their black attire matched the night sky that stretched over the splashing fountain.
Nick Post stood at the center of the group. He leaned in as he told a ghost story about the so-called 'Lady of the Lake.'
"On cold wintry nights she can sometimes be seen skating across the ice, warming her hands and wearing outdated clothing," Post said. "Some reports say she wears white, others say she wears pink. But none have gotten close enough to see her face."
This is just one of many apparitions that supposedly stalk OSU's dorms and classrooms at night. Its these legends that brought ten members of the Ghost Hunting Gays of Ohio, the state's newest paranormal investigators, to campus on a Sunday night.
"Like the tagline says, we were born this way. We discover why you died this way," he said, referencing a 2018 hit song by Lady Gaga.
A new kind of safe space
Post got the idea for the group in 2020, when the usual queer-friendly places he would haunt were all shut down. It made him realize how many LGBTQ+ spaces were bars and clubs, centered around drinking. He wanted something different.
"I've always been obsessed with ghost-hunting shows and all of that good stuff, so I was like, what if we just go check out some haunted places?" he said.
Post said looking to the supernatural was only natural for him, and he thinks that's true for a lot of queer people. He said the paranormal holds a special appeal to many in the gay community.
"When you are misunderstood your entire life, it intrigues you to understand other things that are misunderstood," Post said.
That's the case for Allison Delgado, who joined the night's ghost hunt. She's an introvert and said meeting people can be hard. That's why she loves this group. For her, it's just as much about finding community as it is about finding ghosts.
"They have a lot of fun and a lot of laughs and it just makes me feel safer, because we're just out here having a good time," Delgado said. "So even if something does happen, I don't think that [a] ghost is really going to be able to do much to me because of all the energy around me from them."
All are welcome
As the night continued, Post pointed out more dorms with frightening histories. The group gasped at flickering lights and explored supposedly haunted elevators in hopes of spotting an apparition. Some recorded videos, others used an app on their phone in an attempt to detect the dead.
While Post and Delgado hold a strong belief in the spiritual world, that's not a requirement to be in the group. Nick Repka is a skeptic, but he said he still comes each week. He's sober and he likes having an alcohol-free space to connect with his community.
"We used to have like gay coffee shops, they never seemed to really take off," Repka said. "And, so this is actually gaining traction, to be honest. The group is getting bigger every time."
Much of the group is from central Ohio. But some drove over an hour to join the paranormal pursuit. Post said they started as just a Columbus group, but he soon got messages from people in Toledo, Cincinnati and Dayton, wondering when the next event would be.
"When you are misunderstood your entire life, it intrigues you to understand other things that are misunderstood."

Nick Post, founder of the Ghost Hunting Gays of Ohio
Phantom friendships
At the end of the evening, the group sat in a circle of salt holding hands next to the lake. Candles flickered and illuminated Post's face as he summoned the other side.
Post said he hopes the group is healing, both for those finding community here in Ohio, and maybe even for those beyond the grave.
"There were queer people back in the day that probably lived kind of awful lives, considering their situations," he said. "So the idea of a queer ghost-hunting group is so brilliant because our presence might be helping somebody go on to the other side if they need to."
The group packed it in at 10 o' clock at night. They didn't see a ghost, but they said it was still worth it to get together with other people like them and find comfort in the strange.