Ohio's major political party chairs discuss their strategies to get out the vote on Issue 1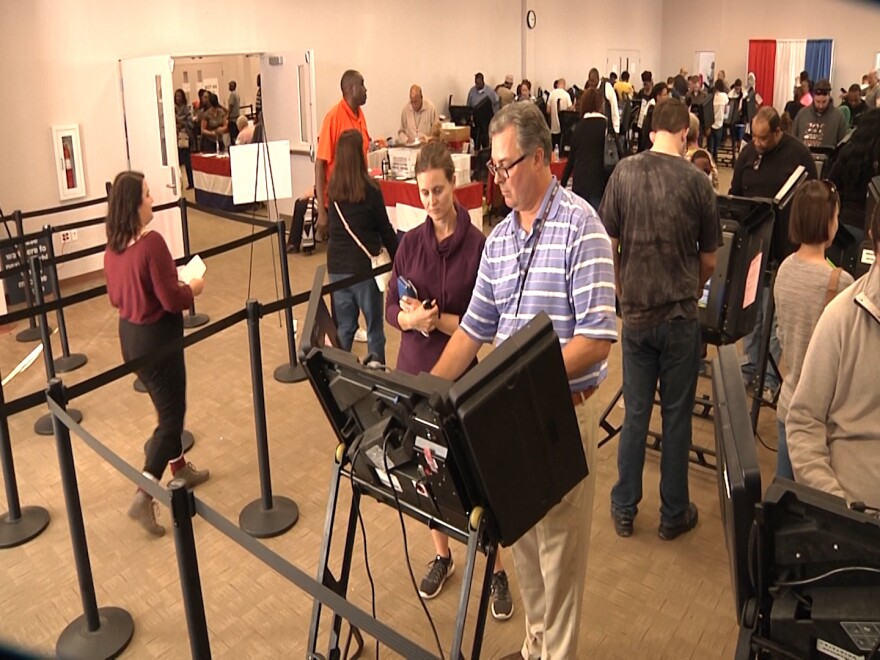 When early voting for the Aug. 8 election began in Ohio last week, there were lines at some polling places. The only question on the statewide ballot is Issue 1, which would raise the voter approval threshold to 60% for future amendments, instead of the current simple majority.
Though there are no candidates on the ballot, the state's two major political parties are heavily engaged for this special election. The Ohio Democratic Party is working with unions and advocacy groups throughout the state to get Ohioans to reject the proposed change. The Ohio Republican Party is working with churches and groups that lobby for businesses to get voters to approve the proposed constitutional change.
Ads against Issue 1 have been airing statewide for a couple of weeks. The group One Person One Vote, a coalition of hundreds of groups which sued to stop the issue from going on the statewide ballot in August, has been paying for ads, yard signs and events. Ohio Democratic Party Chair Liz Walters said the party is seeing unprecedented levels of engagement from voters opposing Issue 1.
"I think Ohio voters know exactly what's at stake. I think they're paying attention. I think that they are outraged that Republicans in the Ohio Statehouse are trying to take away our voice and our freedoms," Walters said.
Walters said opponents of Issue 1 are in every county in Ohio, trying to inform voters and urge them to vote early because August is not a time when voters are used to voting. Last August, about 8% of registered voters turned out for an August primary for state lawmakers, after the Ohio Redistricting Commission failed to produce constitutional legislative maps on time for a May primary.
This year, majority Republican lawmakers voted to put the statewide constitutional change on the August ballot ahead of a planned November constitutional amendment on reproductive rights and abortion access. Walters said voters who support that are getting the message that they have to vote no in August before they can vote yes in November.
"Republicans have said the quiet part out loud, which is that this special election is 100% about trying to stop abortion rights from having a fair vote in the fall of this year. And we think that Ohio voters are not going to stand for it. So we're out having those conversations with voters again in all of Ohio's 88 counties right now," Walters said.
But Alex Triantafilou, the chair of the Ohio Republican Party, said people who support Issue 1 are having that discussion too.
"Of course, the 'right-to-life' groups are involved. A lot of the business groups are involved. Chamber of Commerce has endorsed this. [The Ohio] Restaurant Association has endorsed it. So we've got a lot of different partners. And then, of course, there is the entity Protect Our Constitution, which is a separate entity from the Ohio Republican Party, but all of us working toward urging a 'yes' on Issue 1," Triantafilou said.
So far, many of the TV ads have been on the 'no' side, but Triantafilou noted $3 million worth of ads have just started from Protect Women Ohio, which opposes abortion rights. And while he said he knows Republicans are less inclined to vote early, he said the party is urging voters to cast ballots before August 8.
"We don't want to be behind when the polls open on Election Day. We want to be right there with the Democrats and even surpassing where they are," Triantafilou said.
Republican leaders had said for weeks that the interest around this issue would likely bring in a higher turnout than the legislative primary last August, pushing back on concerns that this critical constitutional change could be decided by a small minority of Ohioans. But just before early voting started, Republican Secretary of State Frank LaRose, a key backer of Issue 1, said he "wouldn't be surprised" if turnout was similar to the 7.9% who cast ballots last August.
Copyright 2023 The Statehouse News Bureau